József Réti, the oldest of the brothers
Adrás Faragó, the father
Hungarian Radio and Television Symphony Orchestra
György LEHEL, conductor
T
his is one of the finest performances of the piece I've ever heard. The solo of the oldest brother who was turned into a stag warning his father not to shoot his sons is wild and bracing, the father's lamenting pleas are beautiful.
I
can't find an official English translation of the text online, I suspect all of them except the one below are under copyright.
H
ere, from an online "virtual exhibition" by the Hungarian Academy of Sciences Institute for Musicology, is
a page with Bela Bartok's own English translation of the text
which he had translated into Hungarian from Romanian (the guy was a real genius).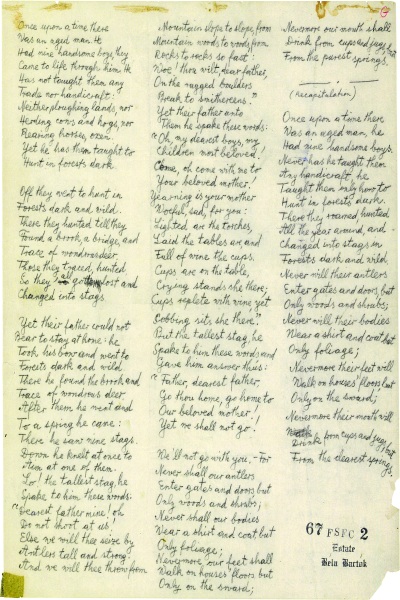 I copied it and blew it up several times so I could read it but I'm half blind. Bartok's handwriting is as clear as the clearest springs mentioned at the very end of it.
Consider this my July 4th protest against the trashing of the environment here and everywhere. If democracy can't do better than what the Trump regime is doing, it is a proven failure. Only this isn't democracy it's the Age of Lies in which democracy is made impossible.