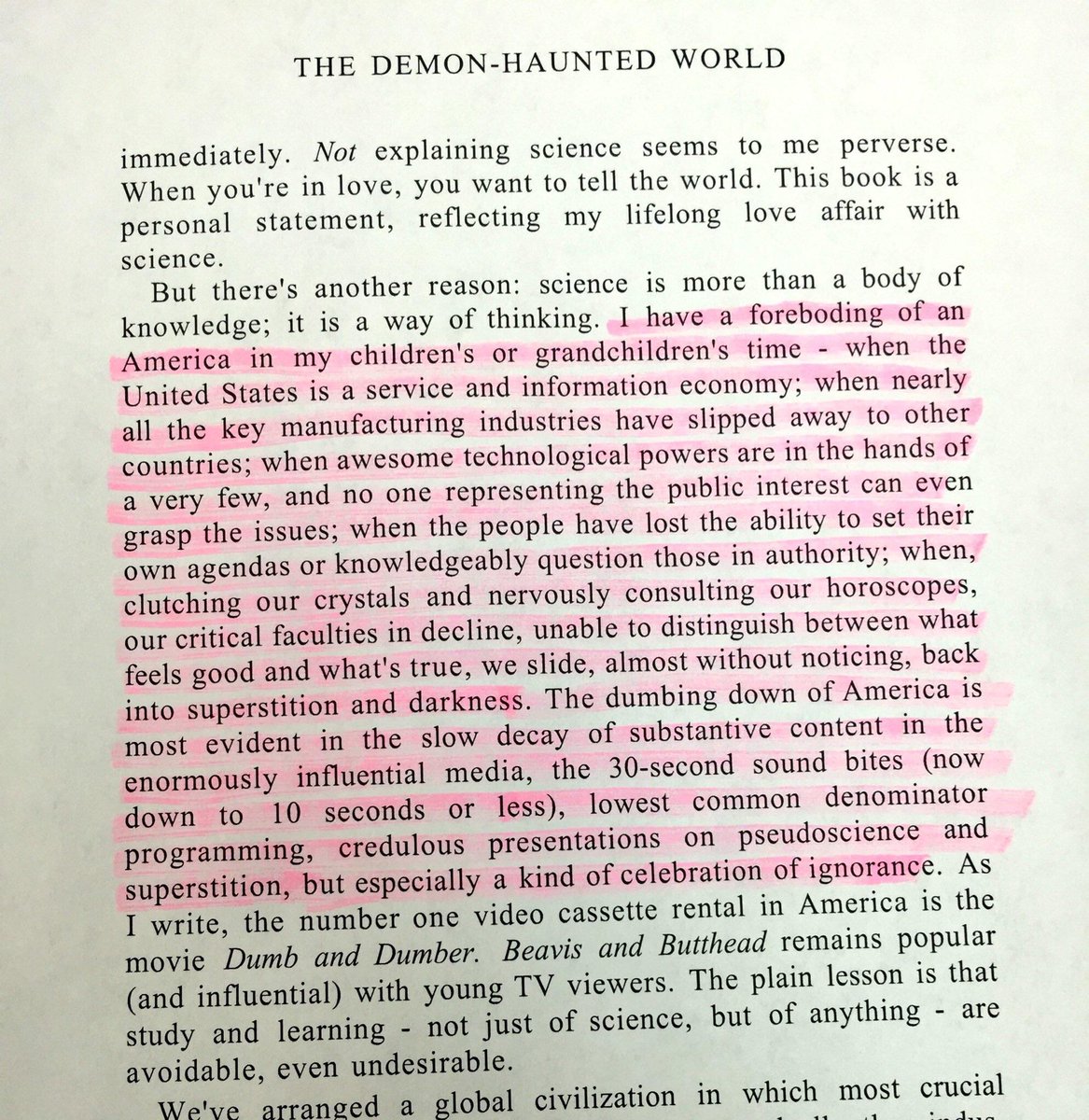 I was just sent this bit of boilerplate* by someone who is either upset with my recent dissing of his Saganhead or believes that their man-god invented the ideas contained in it in 1995. You can find the same things said decades, centuries before Sagan said it. You might try Newt Minnow's famous "Vast Wasteland speech of 1961 and similar things going back to Plato and his hatred of what he considered the low minds of anyone but aristocratic citizens of Athens.
I will point out that since lying has become the huge moral issue which has gotten us things like Donald Trump, climate change denial, the promotion of fascism and neo-Nazism in all their malignant forms, that there is nothing at all in atheism that can tell you what moral absolute even the worst lies are a violation of. Materialism, such as was Sagan's stated credo in his beginning to Cosmos, can't tell you why you shouldn't tell a lie if it gets you what you want. Sagan's own faith tradition has played a huge role in bringing us to the discrediting of the moral absolute that a truth is better than a lie, that a lie is always a moral wrong unless there is a supreme higher moral value that requires one be told, the lying to the Nazis about where the Jewish children are hidden, exception.
Atheist-scientistic-materialism, the faith tradition of the so-called "Enlightenment", even as its classical phase decayed into the 19th-20th century romantic phase of it and on to its total decay into mass media induced pop culture (I'd love to ask the shade of Sagan what he thinks of his heir apparent, Neil Degrasse Tyson's remake of Cosmos), inevitably led us where we are, it is what disempowered the left, first through a loss of self-confidence in the absolute character of the morality that is the foundation of American liberalism, then in the assertion that, as Steve Weinberg says, you can't prove that not being a selfish bastard is wrong. The vulgar materialist right was aided by that self-defeating effort of the hoity-toity materialists. That loss of confidence is the key to understanding the disaster we are living in, the thing that made all of the difference in the sporadic progress made in the past. Freeing the press to lie, one of the great goals and achievements of the "secular" athiest, pseudo-left, was the key mistake that was made.
*
Definition of
boilerplate
1

:

syndicated material supplied especially to weekly newspapers in matrix or plate form

2

a

:

standardized text

b

:

formulaic or hackneyed language
I remember back before Sagan wrote that stuff for venues like Parade Magazine (his columns comprise a good part of the contents of "A Demon Haunted World"). But since reading lots of his fanboys online I realize that people don't understand what basic terms mean.